« Shuffle! | Home | My new best friend: Pandora Radio »
Post By: Alan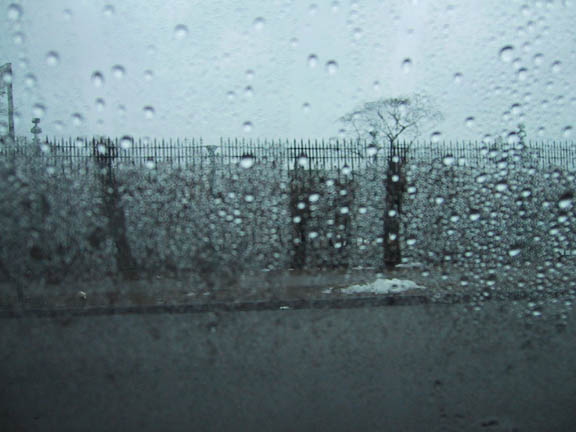 It's raining in Northern California today, and it got me thinking about music that is perfect for those rainy days. Of course, I'm just writing about what sounds good to me when it's raining, and certainly wouldn't expect any of you all to agree!
What makes a song good for a rainy day? I tend to like mellow music with slow beats. I like music that has a unique sort of sound. I particularly like the sounds of Rhodes pianos and organs. I also enjoy electronically generated sounds, as long as they are not too jarring. I like the occasional song that has the sound of rain in it, or just a sound in the background that reminds me of the constant sound of falling rain. I like music that fits the vibe of the day, mellow, relaxed and gentle.
Let's look at some of my favorites:
One of my favorite rainy day songs is "Riders on the Storm" by the Doors. The sound of the rain and thunder at the beginning and end of the song is what sets the mood, but the melody and beat keep it going. The sound of the organ gives a trippy, underwater sort of effect, which is perfect for a rainy day. Riders on the Storm is on the album "LA Woman", but the rest of the album doesn't really work with my idea of what a rainy day album is.
I have also been enjoying the Herbie Hancock "Mwandishi" albums today. Crossings and Mwandishi have more of a rainy day vibe than Sextant, but Sextant has the song "Rain Dance", which has a neat dripping-water sort of effect throughout the song. All three of these albums use electronic keyboards, which I think have a distinctive sound that reminds me of the rain. I realize that these albums are not for everybody, because they're a little out there, but I like them.
Another album that I like for rainy days comes from similar roots as Herbie Hancock's Mwandishi albums, and that album is Miles Davis' "In A Silent Way". This album is mellow, with a mood that reminds me of the rain. The first time I heard it, I was driving in my car in the rain, which further pushed the idea that it is a good album for rainy days.
So, there you have it. My picks for rainy day music. What do you think? What are some of your favorite rainy day songs?
Stay warm, and enjoy the music!
Join the Conversation: Post a Comment!
Topics: Music | 1 Comment »
One Response to "Rainy Day Music"
nima fallah Says:
June 30th, 2012 at 2:46 pm

today,my town is rainy,you should just listening to it,and touch it like a sound of Itzhak perlman.rainy day is the music…
Comments